Medicinal Chemistry
Mimotopes has provided medicinal chemistry support to pharmaceutical and biotechnology companies since the early 1990s. In each medicinal chemistry project, Mimotopes forms a dedicated chemistry team that can become an integrated part of the client's drug discovery efforts.



Mimotopes' rich chemistry expertise and strong understanding of the requirements for biologically relevant and drug-like molecules has been applied to a broad range of targets and therapeutic areas including:

Kinases - Patents: US6,153,618; AU4,920,397

GPCR's - Patent: US6,030,940

Proteases - Paper: Ede et al, J. Pept. Sci., 2000, 6, 11-18.

Ion channels - Patents: US2004/404044049; WO030,366,035
Hormonal receptors - Patents: US6,743,815; US2004/102498; US6,727,273; US2004/077701; US6,387,920; US6291505; US6,262,098
Cardiovascular - Patent: WO03,066,035
Diabetes - Paper: Pei et al, J. Org. Chem., 2003, 68, 92-103
Cancer
Virology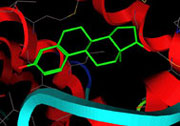 Estrogen receptor binding site
Hormonal Receptors
As confidentiality is highly respected at Mimotopes, most programs cannot be disclosed. With permission from respective clients, two examples are briefly discussed below.

Numerous companies have utilized Mimotopes medicinal chemistry skills to advance their own programs. See a selection of Mimotopes Discovery Chemistry past and present customers.

For more information on how Mimotopes can assist your medicinal chemistry needs contact us at chemistry@mimotopes.com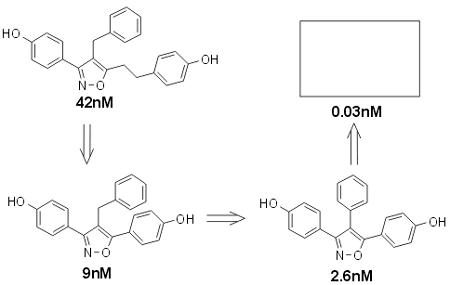 Mitochondrial Sodium-Calcium Exchanger (NCE)
Working with MitoKor, Mimotopes helped to develop a series of NCE inhibitors as potential therapeutics for diabetes. Starting with an initial lead compound, novel SAR was established to identify compounds that are an order of magnitude more active than the initial lead. Further modifications to improve the pharmacokinetics resulted in the development of a collection of compounds that modulate glucose tolerance at a concentration of less than 1 µM. This work has been partly published in J.Org.Chem., 2003, 68, 92-103, and under the patent application: WO 2003066035.