Synthesis Formats
PepSets are more than just a set of custom peptides. Each peptide is a piece in the puzzle you are trying to solve. Creating sets of them simultaneously ensures entire experiments can be manufactured very quickly and affordably.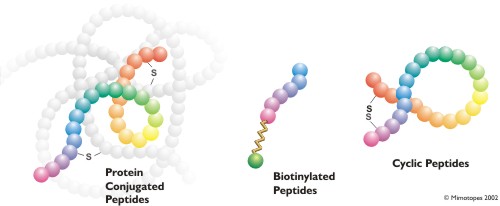 Choice and Flexibility
Every peptide within the PepSet is manufactured at the same scale, but not limited to one set of conditions. There is flexibility to incorporate multiple synthesis formats, effectively combining many PepSets into one. A vast range of labels and modifications can also be incorporated. Standard synthesis scales for cleaved PepSets range from 1-3, 3-5 and 6-8 mg, based on the average yield from a 15mer peptide.
Current Formats
Table 2: Study of Pharmacologically Active Peptides

| | | |
| --- | --- | --- |
| Synthesis Format | Research Application | Specifications |
| Standard PepSets | General screening purposes, epitope mapping, SAR and binding studies or economical production of unpurified peptides. | Contains up to 94 unpurified custom peptides + 2 control peptides per block. Available cleaved as powders, in solution, on coated plates, non-cleavable (bound on solid-phase) or cleavable with DKP ending. |
| CTL PepSets | Cytotoxic T-Cell linear epitope mapping | Generates equimolar mixtures of the four C-terminal peptides for each nominal 11-mer across your entire protein. i.e. an 8-,9-,10- and 11-mer truncation sequence in every well. Any range of truncations may be chosen. |
| BiotinylatedPepSets | Antibody (B-cell) and receptor linear epitope mapping | Peptides derivitized with biotin are coated onto avidin or streptavid coated plates. Ideal for high-affinity antibody binding ELISA assays. |
| FRET PepSets | Protein interactions such as those involving proteases. | In Fluorescent Resonance Energy Transfer (FRET) PepSets, each peptide contains a fluorescent donor and a non-fluorescent quencher. |
| Cyclized PepSets | Studies where conformational constraint is desired | Cyclized head to tail or through S-S bonds. |
| Phosphorylated PepSets | Detecting signal transduction protein binding | Phosphorylated residues are incorporated into the sequence during synthesis. |
| Conjugated PepSets | Multiple antibody studies | Peptides are conjugated to a choice of carrier proteins |