What Are PepSets
Peptide libraries are a powerful tool in biological research for screening large numbers of peptides in the search for the few, critical bioactive peptides. They are synthesized on Mimotopes' unique proprietary synthesis platform and are typically supplied unpurified for fast, efficient screening work.

The concept of combinatorial peptide libraries originated at Mimotopes (Geysen, M., 1984). Since then, Mimotopes have continued to develop and refine the product so that today, PepSets™ are still the most flexible and economical peptide libraries available. Some of the main benefits include:
No minimum order requirement
Your choice of endings
Synthesis scales to suit
Flexible QC options
After the screening phase is complete, Mimotopes offers high purity custom peptides for conducting more detailed investigations.
How are PepSets Used
Peptide Libraries are used for diverse purposes, from peptide epitope mapping and structure-activity studies, to the search for peptide "drugs".

PepSets are ideal for T cell epitope searching, because T cell epitopes are by nature short linear peptides from the primary protein sequence. They are also appropriate for scanning the primary sequence of proteins for linear, or "continuous", antibody-defined epitopes.

Where a bioactive sequence is already known, PepSets provide the ideal primary set of analogs for screening in structure-activity relationship (SAR) studies, also known as "Analoging". To discover novel bioactive peptides, a PepSet consisting of many altered sequences, with natural or unnatural amino acid replacements, is synthesized and tested. This can result in the definition of highly promising candidate peptide therapeutics, or in the exclusion of classes of inactive peptide analogs from further study.
Research Applications
Some of the many specific applications in immunology and drug discovery that are ideally suited for PepSets include:

* Epitope mapping
* Structure-activity relationship studies
* Analog development
* Protein-protein and Protein-nucleic acid interaction studies
* Multiple antibody studies
* Protease and Kinase substrate mapping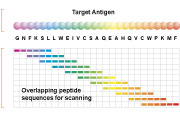 All quality certification, spectra data and user notes that accompany your PepSet now arrive on a convenient mini CD rom.

Choosing the Right PepSets Design
Staff at Mimotopes have been designing, synthesizing and testing PepSets for immunological and other applications since 1982. Mimotopes offers an obligation-free design assistance service, which will include assessment of the feasibility of the peptides and a quotation for the specific set as designed for you.

After Mimotopes technical consultants have gained an understanding of the needs of your project, they will be able to recommend a strategy to create the most economical PepSet design for you, and will assist in the creation of the list of peptide sequences. Multiple synthesis formats can be included in one PepSet. If your needs are particularly complex or innovative, Mimotopes biologists and chemists will offer solutions tailored to your needs.

Alternatively, you can design and specify the peptides, and Mimotopes, after confirming their feasibility, will manufacture them to your design. Synthesis will normally commence immediately upon order placement, and delivery takes around four weeks, varying a little with peptide length and total number of peptides. PepSets can be ordered directly from Mimotopes, or through Mimotopes sales offices in various countries, or through our network of distributors. Specific order conditions will be included in the quotation.
Getting Results with PepSets
Mimotopes can assist you to obtain fast and efficiently generated results with your PepSet, and is commited to providing technical support throughout your PepSet application work.

For example, the first process followed by most Mimotopes Cleaved PepSets users is usually to redissolve all the PepSet peptides, which are supplied as dried powders in individual capped tubes. For projects where direct binding tests are going to be carried out, Mimotopes offers biotinylated peptides which have already been taken to the next step, capture onto streptavidin-coated microtiter plates in an array layout. Prior coating of biotinylated peptides onto multiple streptavidin-coated microtiter plates saves significant time, effort and additional expense in the user's hands. These plates can be immediately used for tests of direct binding, for example in an antibody epitope mapping project, and the resulting data can be obtained within a day of receiving the peptide-coated plate product.

Even more convenient is the full antibody epitope mapping service offered by Mimotopes, where the coating and ELISA testing are carried out at Mimotopes' laboratories, and results are QA checked before forwarding to you.
Synthesis is performed using automatic synthesizers to ensure maximum productivity and accuracy.
Synthesis of PepSets
The Multipin™ peptide technology involves synthesizing peptides on to SynPhase Lanterns or Gears (unique modular resins) mounted on blocks in a format which is compatible with the standard 8 x 12 microtitre plate used for many biological assays. Both solid-bound (non-cleavable peptides which remain covalently bound to the modular resin) and solution phase peptides (those that have been cleaved off the surface) can be produced by this method. PepSets™, based on the Multipin™ synthesis system facilitate the simultaneous synthesis and screening of large numbers of peptides.

PepSets™ consist of blocks of up to 96 individually synthesized peptides, two of which are carefully selected control sequences. Cleaved controls are used to assess the purity by reverse phase HPLC and to quantitate peptide content by amino acid analysis. Positive and negative non-cleavable controls are assessed by standard ELISA techniques. A full report is provided with each set of peptides including a summary of the quality control results. Confidentiality is guaranteed. Partial PepSets™ of less than 94 peptides or with combinations of different synthesis formats can also be purchased.