Polyclonal Antibodies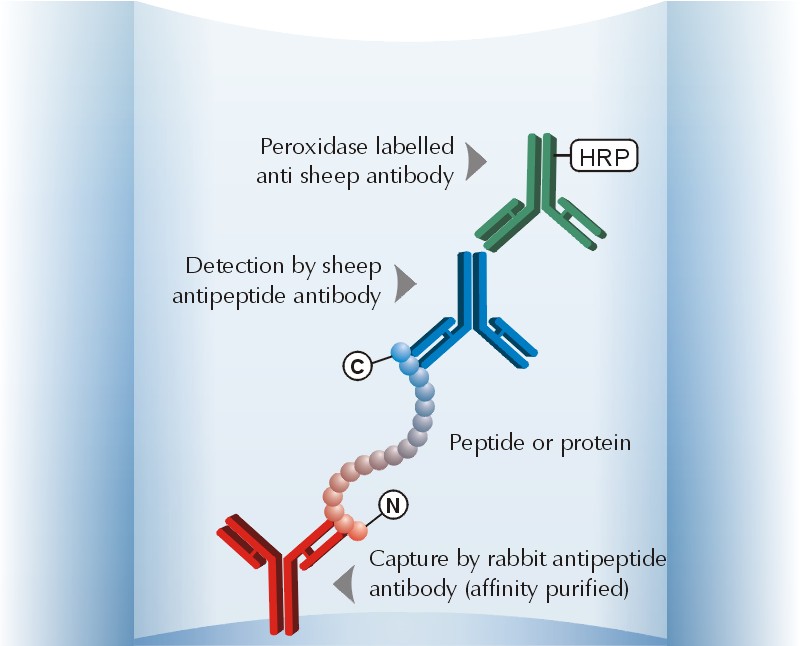 Sandwich ELISA using antipeptide antibodies. Expand

Good anti-peptide antibodies make great reagents for the rapid development of immunoassays. Mimotopes has extensive experience in the generation of polyclonal antibodies, eliminating the need for developing long and arduous procedures using monoclonal antibodies.

The illustration opposite shows the primary capture antibody as an affinity purified rabbit antipeptide antibody. The captured molecule may be a peptide, (as illustrated) or a protein. The detector antibody can either be an affinity purified biotinylated rabbit anti peptide antibody or as illustrated, an anti-peptide antibody generated in a different species. This immunoassay format is particularly robust and specific as both anti-peptide antibodies must bind to detect the peptide for the assay to be completed. Typical sensitivity of detection without applying amplification procedures are in the low ng/mL range. Mimotopes can assist with designing and co-ordinating antibody production specific to your protein of interest.
What we offer
High quality purified peptides conjugated to immunogenic protein carriers such as Keyhole Limpet Hemocyanin (KLH). Other protein carriers are also available eg Bovine Serum Albumin or Ovalbumin. The conjugates can be shipped directly to our partner antibody production service, IMVS for animal immunisation.