Peptide to Drug Development
The development of a peptide lead to a commercial drug is a very challenging and time consuming process. Peptides generally suffer from poor in vivo stability, poor pharmacokinetics, and poor bioavailability. Only a small number of peptides have been commercialized as drugs, generally requiring injection for delivery. For most therapies though, an orally available compound is preferred - this implies a small molecule or peptidomimetic. The development of compounds that retain the initial biological activity achieved by the peptide lead, but with good bioavailability and pharmacokinetic profile, is very difficult and requires significant chemistry support.
Mimotopes offers a unique blend of chemistry skills which can help advance your peptide hit into a potential drug ready for preclinical testing in a cost and time efficient manner. Who else can offer this blend of chemistry skills:
Peptides
Peptidomimetics
Small molecule, including chiral, synthesis
Combinatorial and medicinal chemistry experience
Key Steps towards developing small molecule preclinical candidates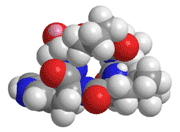 Proprietary technology in cyclic peptides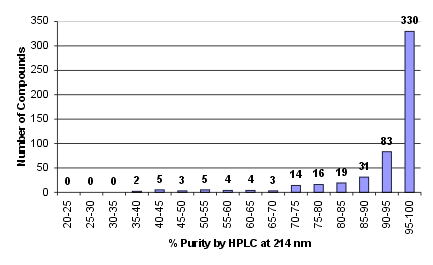 Combinatorial library of cyclic pentapeptides. Expand

The key steps in development of a peptide hit to a small molecule preclinical candidate include:

1. Optimization of the peptide - The better the peptide lead, the better the chance of success in developing a small molecule mimetic. Starting from the native ligand or protein, Mimotopes will utilize its peptide library capabilities to explore the optimization of potency and selectivity whilst decreasing the size required for activity. The structure activity relationships established are essential for development of the peptidomimetic and small molecules later in the project.
2. Peptidomimetic development - With the information obtained from the peptide optimization, Mimotopes will explore a number of modifications, including bioisosteres, modified terminal endings, and amino acid modifications to increase the stability, bioavailability and pharmacokinetics of the leading compound(s). This process also includes the use of cyclic peptides, an approach which has been successful in the development of drugs which are now on market. Mimotopes has developed proprietary technology for the efficient synthesis of collections of C-N cyclic peptides, ideal for this phase of the project.
The breadth of Mimotopes' experience ensures multiple approaches can be considered and carefully selected, increasing the probability of success through this phase and reducing lost time. Key compounds from this stage can be used for critical proof of principle experiments. It is even possible that the compounds developed are suitable as drug candidates, adding significant value to your intellectual property.
3. Small molecule development and lead optimization (medicinal chemistry) - utilizing the knowledge gained from the first two phases, small molecule mimetics will be developed. Mimotopes has worked on a number of approaches to this transition. Furthermore, we have strong experience in the optimization phase of a medicinal chemistry project advancing the small molecule to a preclinical candidate.

Mimotopes has helped advance many companies' drug discovery efforts. See a selection of Mimotopes Discovery Chemistry past and present customers.

For more information on how Mimotopes can help advance your peptide hit into a potential drug contact us at chemistry@mimotopes.com.