Structure and Composition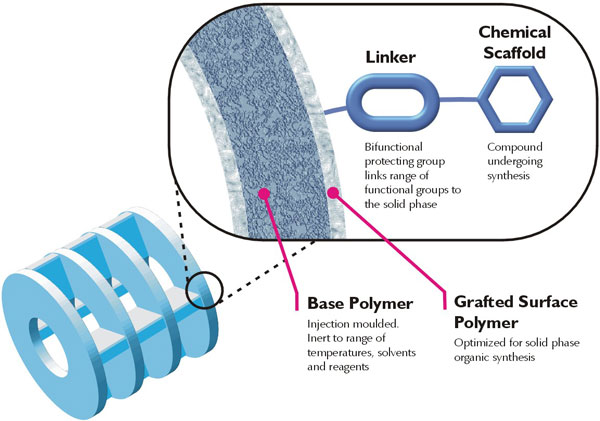 Structure of the SynPhase Lantern. Enlarge

SynPhase technology is a two layer system. At the surface is a low cross-linked uniform polymer graft 50μm thick where reactants bind and chemistry takes place. This layer is securely bound to a rigid unreactive base polymer, providing a robust and convenient framework to handle the solid phase. The unique "Lantern" shape incorporates the ability to attach special snap-fitting tags and provides maximized surface area, free flow-through of reactants and rapid drainage of wash solutions.
The outer polymer graft consists of either polystyrene (PS) or polyamide (PA), the former being suitable for general organic synthesis or scavenging applications in non-polar solvents while the latter is suitable for chemistry in hydrophilic or aqueous conditions, such as peptide synthesis.

SynPhase Lanterns are cylindrical in appearance, with dimensions as shown in the table below. They are produced in 3 sizes, referred to as (in decreasing order of size) A-Series, D-series and L-series. These correspond to different loading levels within each linker family and application.

Their convenient size makes SynPhase Lanterns large enough to handle but small enough to be compatible with a wide range of reaction vessels and synthesizers. The dimensions of each Lantern Series also determines which particular tagging procedures they are amenable to.
Physical dimensions of SynPhase Lanterns

| | | | |
| --- | --- | --- | --- |
| Property | L-series | D-series | A-series |
| Height (mm) | 5 | 12.5 | 17 |
| Diameter (mm) | 5 | 5 | 6 |
| Surface Area (cm2) | 1.7 | 3.6 | 8.2 |
| Displacement plus Void Volume (μL) | 98 | 245 | 480 |