Features and Benefits
Highly Cost-Effective
The cost of manufacturing and hence purhcasing PepSets is kept down thanks in part to Mimotopes' unique proprietary solid-phase technology and also to their simultaneous synthesis in an unpurified, 96-well array format which is ideal for screening purposes. This also allows many more peptides to be made and tested than would be possible if every peptide was individually characterized before bioassay. Peptides found to be bioactive can then be obtained in purified form for confirmatory experiments and for larger-scale work.

Owing to the economies of scale of parallel synthesis, the average cost of PepSets peptides decreases as the size of the set increases. In addition, because of its unique Synthesis technology, Mimotopes can choose the appropriate scale of synthesis for your PepSets. You therefore pay only for what you need and not for excess mass due to larger synthesis scale technologies.
Novel designs
Mimotopes has the ability to fine tune the overall design of each synthesis to suit the particular application. For example, peptides for an antibody-binding experiment may be supplied as powders ready for redissolving; as coated plates ready for an ELISA; or as re-usable, permanently bound peptides on a water-wettable polymer surface. Another example is peptide libraries incorporating unnatural or unusual amino acids, tags, or linkers.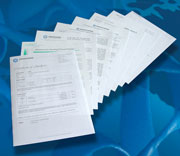 All quality certification, spectra data and user notes that accompany your PepSet now arrive on a convenient mini CD rom.

Quality Built In
To assure utmost quality, Mimotopes always synthesizes Control Peptides with every set. Two peptides are made per plate (of up to 94 peptides) and, for Cleaved PepSets, are fully analyzed by HPLC, MS and AAA as a test of the fidelity of synthesis. Only after these Control peptides have passed scrutiny for correct identity, purity and yield, is the set of peptides released for shipping.
Working from a verified database during synthesis, computerized equipment specifies the addition of each amino acid, ensuring correct assembly of the sequences. Cleaved PepSets are shipped as dry powders in convenient 96-tube racks containing up to 94 client peptide tubes per rack, less than the original 96 peptides because of the removal of the two Control Peptides.
Fast Synthesis
PepSets are fast to make, because the peptides are made using a unique parallel synthesis technology. Typically, PepSets of 100 to 1,000 peptides can be supplied within 4 weeks. Larger sets, e.g. 10,000 peptides, will take longer. All peptides can be shipped at the same time, and thus can be screened simultaneously to obtain full data sets under identical conditions.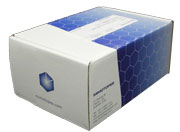 Each SynPhase Lantern holds a discreet quantity of single compound on a convenient modular support

Direct Answers to Vital Questions
Mimotopes peptide libraries are frequently the fastest, most economical and most direct way to answer vital questions about a vaccine, diagnostic, or peptide-related drug development project. For example, the peptide recognized by a cytotoxic T cell is readily identified using a set of overlapping peptides spanning the sequence of the target protein. Once the answers from this direct screening methodology are in hand, decisions about the direction of the project can be made without the risk of running a long expensive program with an uncertain outcome.
User-friendly product presentation
This includes helpful technical guides, a Decapping Tool and spare tube caps for Cleaved PepSets, plus expert technical support for the inexperienced user.