SynPhase Lanterns Overview
Three sizes of SynPhase Lantern allow for chemistry at various loading levels and tagging options. Enlarge

SynPhase Lanterns can be viewed as macroscopic protecting groups letting you easilly manipulate any number of individual compounds during synthesis. The medium will not clog filters or disappear down drains like conventional resins, ensuring better yields. (Click the image to Enlarge)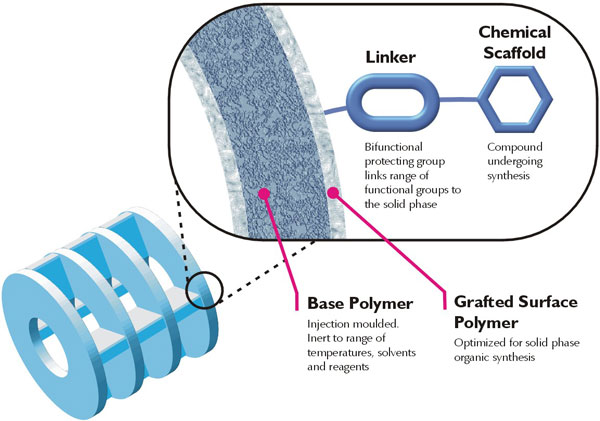 The innovative modular design and low cross-linked surface of SynPhase Lanterns permits free flow-through of reactants, giving superior performance over conventional resin. Simple snap-fitting tags allow identification of individual compounds in a variety of methods to suit all scales of synthesis and budget.

Each Lantern holds a precise amount of single compound on a conveniently sized rigid support that is easily picked up and transferred from flask to flask. There are no particles so compounds are never left behind on glassware, and the need for weighing and filtering is eliminated.

SynPhase Lanterns are the only medium to combine the advantages of solid-phase and solution-phase chemistry in one system, overcoming the limitations of either system alone.
Diverse applications for chemistry
SynPhase Lanterns are available with a wide range of linkers and surface functionalities, giving access to numerous types of chemistry and scavenging applications.
Benefits at the workbench
Through their unique modular design, SynPhase Lanterns are exempt from the typical practicalities encountered with conventional resins and solution phase techniques. With SynPhase Lanterns you experience:
| | |
| --- | --- |
| No Weighing | No column preparations |
| No Filtering | No column preparations |
| No Recrystallizations | No shaking or agitation |
Additional advantages
Use of common & unsophisticated labware
Simple tagging and workflow techniques
Fully scalable and translatable chemistry straight from solution phase or resin.
Minimal lead time with optimization
Adaptable for automation
Proven performance for yield and kinetics
Proven Kinetic Performance
SynPhase Lanterns provide yields and purities comparable to commonly used resins such as 100-200 mesh polystyrene resin. The design and shape of the Lantern maximizes surface area and allows free-flow of reagents to deliver high and uniform reaction rates, without the need for agitation.
Chemistry between SynPhase Lanterns and Resin has also been found to be fully transferable.
Versatile strategies for High-throughput Synthesis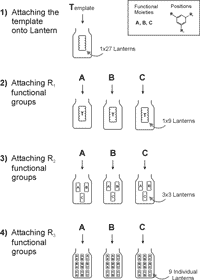 Synthesizing a combinatorial library. Enlarge

Managing large numbers of compounds requires an efficient method for keeping track of them. Combinatorial synthesis, in particular generates large numbers of compounds that rapidly multiplies with each reaction step. SynPhase Combinatorial provides a number of tagging systems enabling individual Lanterns to be uniquely tagged and readily identified. Each of these systems facilitates a different style of synthesis, catering to various production scales, budgets and applications. The principal tagging methods include:

Radio Frequency (RF) tagging
– computer controlled synthesis for large numbers of compounds

Color Coded tagging
– Based on visual identification, an ideal method for pilot scale syntheses or optimization experiments

Multipin Array tagging
– Maintains compounds in fixed positions on a matrix to simplify handling
Enhanced throughput and productivity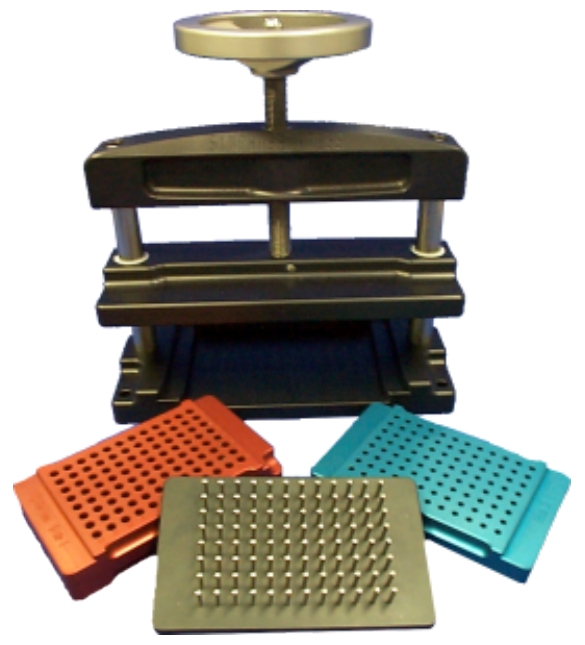 The SynPhase Assembly Kit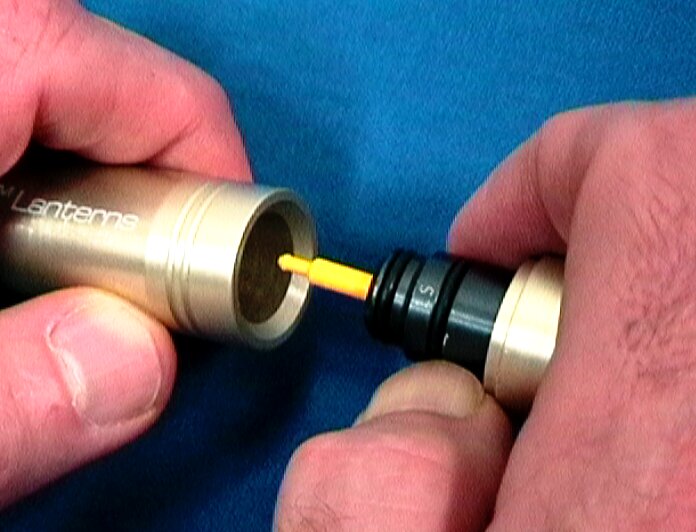 The SynPhase HandyTag

Compared with using traditional solid-phase or solution-phase techniques, the time required to produce libraries of several hundred compounds on SynPhase Lanterns is significantly reduced when the appropriate tools and strategies are employed. SynPhase Combinatorial provides a suite of hand-operated assembly tools to help accelerate procedures involved with tagging Lanterns.
The SynPhase Workstation
Recommended for use with medium to large libraries, the SynPhase Workstation is used with the Directed Sort and Multipin Array synthesis strategies for the attachment of Stems and TranStems onto SynPhase Lanterns in multiples of up to 96.

The SynPhase HandyTag
While Lanterns can be tagged by hand in small numbers without problem, the SynPhase HandyTag is recommended as an affordable means to avoid potential strain or injury when tagging small to moderately sized libraries of 50 to 500 compounds. Although much larger libraries can be prepared this way, greater productivity gains may be accomplished using the SynPhase Workstation.

Lanterns are also compatible with some automated synthesisers, leading to even further reductions in time and effort.